Our Logo, Vision, Mission and Core Values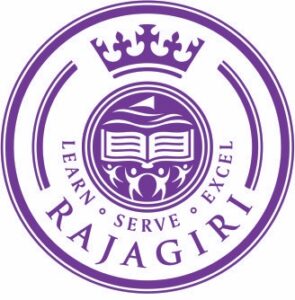 Our school logo illustrates our heritage, identity, charism and characteristic features of CMI education including holistic formation, value education and social commitment. The pictorial depiction at the centre of the logo conveys that the WORD OF GOD guides every activity of the school. The three words of the Motto – Learn, Serve and Excel – underpin the core objectives of the school. The whole logo is entitled with the Crown of Glory representing Christ the King (Rajagiri), the Lord of God. 
The Motto of the school is described as follows:
LEARN:
A shared vision of learning is the underlying principle of our school wherein students enjoy experiential learning and grow sustainably in wisdom and stature. They are being mentored to be creative, critical, communicative and collaborative in their holistic lifestyle.
SERVE
A vision of shared  humanity through service is another epitome of our school wherein students experience God in reality by helping the poor, the sick, the lonely, orphans, widows and those in need. We uphold that humanness and worship to God are reciprocal.
EXCEL
Excellence in learning and service is the culmination of our goal wherein students are guided to go beyond classroom and curriculum to achieve greatness in life by upholding the global values of empathy, oneness and unity in diversity. Global excellence is our identity. It stands for the brand 'RAJAGIRI'.
OUR VISION
Our Vision inspires students to be intellectually competent, spiritually mature, morally upright, psychologically integrated, physically healthy, socially acceptable, champion of justice, love, truth and peace and ever open to the further growth. 
OUR MISSION
To be accredited as one of the highly reputed and most sought-after educational institutions with focus on integral, sustainable, holistic growth and development of lifelong skills and values of 21st century
OUR CORE VALUES
*      * Trust in God
*      * Holistic formation
*      * Scientific Attitude
*      * Global Excellence
*      * Transparency and Accountability
*      * The Earth 'Our Common Home'
*      * Gender Sensitivity
*      * Unity in Diversity
*      * Equity and Equality
*      * Compassionate Love for the poor